The Celebrity Cafe
Save Time and Energy With FrostGuard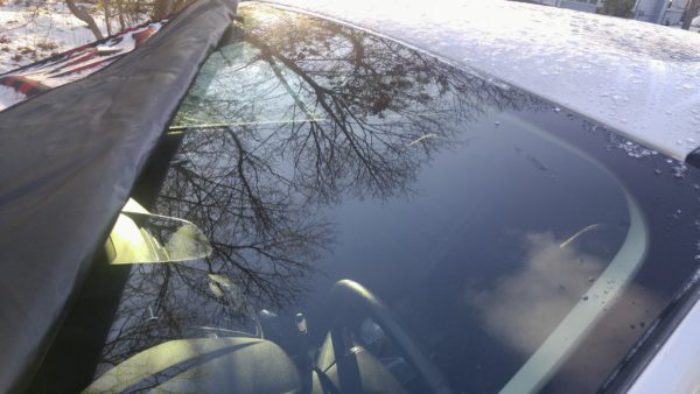 Mother Nature has been off her game so far this winter, and after this week's "blizzard" the cold seems content to linger. And when you come home in the sunshine the last thing you are thinking about after a 60 degree day is making sure you are up early enough to scrape the frost off your windshield.
That's where the FrostGuard windshield covers come in. These easy to use covers shave minutes off your morning routine with just seconds of setup.
Thanks to FrostGuard, you can skip the scraping with their unique windshield covers that keep ice and snow from hindering your morning routine. It is also a big time saver on those cold winter nights when you get back to your car that has been sitting in the freezing parking lot all day and find it is covered in snow/frost truly the last thing you need after a long hard day at the office and a commute home.
As you can see, the frost guard fit my windshield well. And it honestly took seconds to set up. It comes in two sizes – 61" x 32" (Standard) and 70" x 32" (XL) and fits most cars, trucks, SUVs, minivans and station wagons. The Fit-Fast strap system wraps easily around side mirrors and is adjustable to the top 100 vehicles sold in the United States.
I set this up the night before the "blizzard" expecting a least a foot of cold, wet, heavy snow. What I got instead was a dusting followed by torrential downpours. I left the FrostGuard in place to see if it did indeed stay put and if the weather-resistant materials and water-resistant PVC backing held up to the freeze that followed that night.
Here's what I woke up to (and that's ice not water on my car):
Underneath, there was a beautiful clean windshield. The air was so cold that even after 30 minutes of my car running the ice specks at the top of the windshield were not melted, so I found this to be very impressive. And if my car wasn't a finicky brat, I could have pulled out of my driveway in moments with the FrostGuard.
The set includes a quick-drying storage pouch so don't get water on your seats.