Bang Shift
The Rechargeable MEK LED Light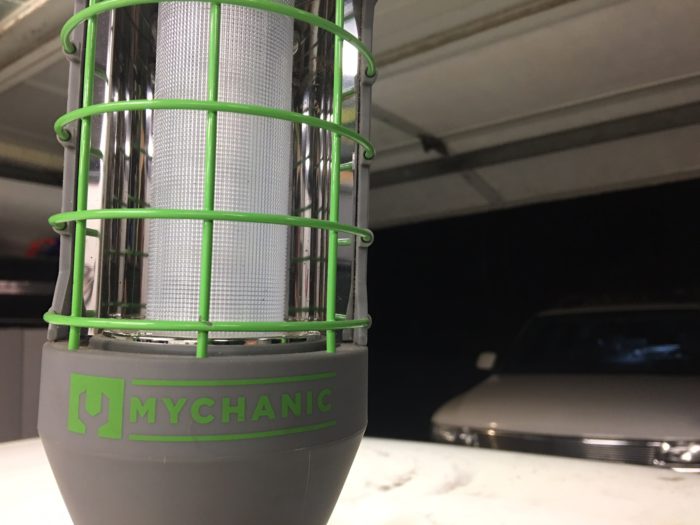 I'm in love with this light. It's one of 7 lights that the folks at MYCHANIC offer, and I was fully prepared to think it was just another average rechargeable shop light. It is not.

In the spirit of full disclosure, I did not pay for this light. The folks at MYCHANIC sent me an email and asked if I would be willing to test out a few of their products and let them know what I thought. If I liked them enough to write about them, great, if not then I didn't owe them a thing. They sent the MEK Light to me, along with their cool Jump and Drive Booster Reel, and told me to go hot. Boy am I glad they did. And you will be too, because we'll be announcing a way for you to win some cool stuff from the gang at MYCHANIC as well. For more info on MYCHANIC products, go to MYCHANIC.US
When the MEK Light arrived at my house it was packaged really nicely, and upon opening it I realized that a lot of effort went into making this thing look cool. But with a list price of $49,99, and an online sale price of $34.99, I was a bit worried that the packaging and look was where the money was spent, because it looks like a product you would expect to pay twice that for. In truth, I didn't even use the light for a few weeks after getting it. But when I decided to do some work on our new Suburban Project at my house, instead of the shop, I needed a light and the MEK was what I had on hand. After plugging it in and letting it charge overnight, the first time I turned it on I was thrilled with the light output. And that was on level one of two!
So far this thing was doing great, but I hadn't done any real work with it. Yet.
Over the next week, I did some wiring, trim, and stereo work on the Suburban, inside, outside, and under the hood. Regardless of the position or location, the MEK light worked like a champ. The swiveling hook on top of the MEK is handy, sized right, and swivels in a way that lets you hook it into vertical and horizontal slots and holes, and the legs are a thing of beauty. With magnets and steel inserts in each leg, they stay securely closed when folded up and provide a nice stable platform when folded out. In fact, the legs are probably one of the things that drives home the impression of quality best. They are sturdy, secure, and positive latching which inspires confidence when using the light.
Because it is all LED, the MEK never gets hot. Because it never gets hot, you can set it anywhere inside your vehicle without fear of burning a hold in upholstery or carpet, or melting plastic like old school corded drop lights. The LED technology also makes the MEK last a long time in between charges. It goes for hours and charges rapidly. And because it charges with a Micro USB, and comes with both a DC adapter to plug in the wall and a power port plug for charging in your vehicle, you can take the MEK anywhere.
At the shop, I have a Craftsman LED Rechargeable Shop Light as well as one from Harbor Freight. The Craftsman is similar in size and use to this MYCHANIC MEK Light, while my Harbor Freight Shop Light is MUCH bigger. Comparing the MEK to my Craftsman, I can say that the light from the MEK is cleaner and brighter, and because of the design it is much easier to position the MEK so that you can see without being blinded by the light. The Craftsman also requires a special power adapter to charge it, while the MEK's Micro USB is so standard it's easy to find anywhere even if you lost the one that comes with the MEK.
Over the last several weeks, we have used the light to work on several projects, include a complete re-piping of Daphne's RV Trailer, the aforementioned Suburban, Ethyl, some projects around the house, and working on Cole's truck. I've dropped it a few times and it didn't care. I've recharged it fully about 75% of the time. Other times I've plugged it in for just 15 minutes to get some more time out of it and it doesn't seem to care about that either. And everyone that has seen it thinks it looks and works pretty darn cool. I have to agree.
I have to say, I have not been disappointed in any aspect of look, feel, performance, or durability with regards to the MEK Light from MYCHANIC. And their other products seem to be just as good. In fact, we not only have a mini review coming on the Jump & Drive Booster Reel, but also video and a review of their new Floor Jack and Sidekick Stool as well.
Oh, and did I mention we're going to be giving away some cool stuff from MYCHANIC? Yep, stay tuned because in the next couple weeks we'll not only bring you our video and review of the Floor Jack and Sidekick Stool, but also tell you how you can win cool products from MYCHANIC as well.
ALL THE PHOTOS BELOW SHOWING LIGHT OUTPUT WERE DONE IN MY DRIVEWAY WITH NO OTHER LIGHTING SOURCES. WE DON'T EVEN HAVE STREET LIGHTS ON OUR STREET.