San Diego Union - Tribune
Tools, tips, treasures for garage geeks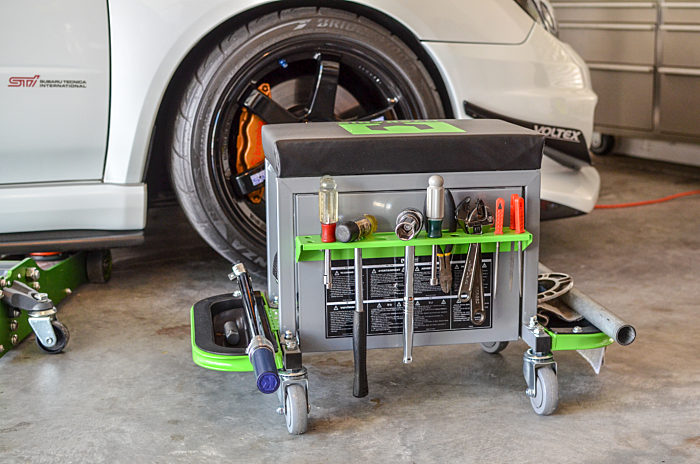 Circle butt? Waffle butt? Who among us DIYers hasn't pulled up a milk crate or sat on an upside down five-gallon bucket to work on our vehicles?

It may be a dirty job, but we don't have to endure those fleshy impressions with the cushy Sidekick Stool by Mychanic.
It is a quality piece with a husky steel frame that will support 450 pounds. The stool glides along the shop floor on 3-inch swiveling caster wheels and there are two drawers (with ball-bearing glides) and a removable tool rack to help keep the job's tools at hand. Two flip-up and magnetic side trays are handy catchalls. The Sidekick measures 19.7-inches long by 14.6 inches wide and 15.7 inches tall (so it's not a strain on knees to stand up.) The Sidekick Stool is on sale now at the company website, Mychanic.us, for $100 (before shipping and taxes), down from $119.
Mychanic was a new company to me and one that seems to rethink some old ideas for do-it-yourselfers. There is a limited choice now, including rechargeable lights and jumper cables, but more accessories are planned.
Here are two more I can recommend:
The Rechargeable MEK Light ($50) is lightweight and can be hung, hand held or it will stand on tripod legs. Its ultra-bright light (650 lumens) is a big help under the hood or down low in those dimly lit corners of your project. And it will be a savior for roadside repairs or camping.
Jumper cables are a hassle, most of the time. They can be stiff to coil up and the alligator jaws can be flimsy and a struggle to connect. Not the Mychanic Jump & Drive Booster Reel.
These pliable "flatwire" cables (sold in two gauge sizes and cable lengths) are contained in a nifty stand and uncoil with an easy pull and then retract by a hand crank. One side of the cable stand is red, symbolizing the positive connection, and the other side is black for negative, with directions printed on the stand. The copper-clad aluminum teeth bite cleanly on battery posts, either top or side. The four-gauge, 20-foot set is $50 and the six-gauge, 16-foot set is $40. As long as you recoil the cables, this set will always be an ever-ready, grab-and-go emergency aid.