Everything I Do Is All For The Boys
Raising An Independent Teen: Roadside Kit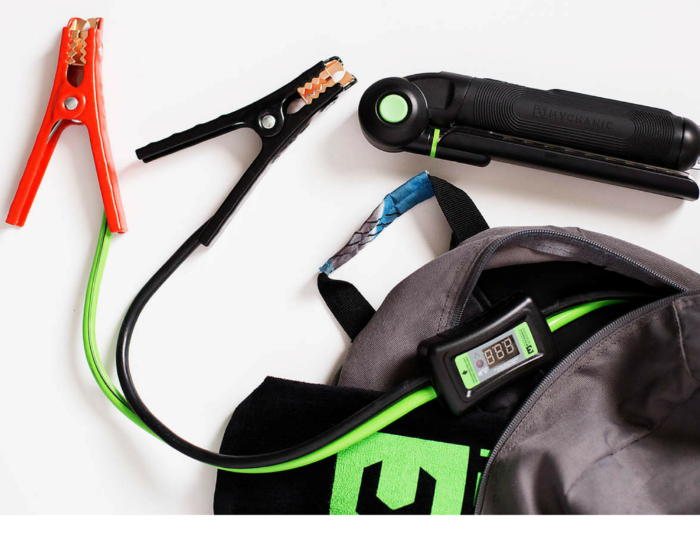 I've shared before about how important it is for us to raise independent teens. Not kids that can handle anything on their own (because they still need their parents after all), but ones that can problem solve, handle small issues on their own and/or how to communicate problems to make it easier for adults to know what they need in order to help them.

One of the things we've been discussing with our teens lately is car care, driving rules, safety etc. since that is the next big life step in this house! MYCHANIC wanted to jump on the chance to help us out by sponsoring this post and sending us some of their awesome products and in return making us want to buy more.
Instead of just handing our kids a roadside kit we thought it would benefit them to help us put one together over time. We grabbed a backpack to fill up while asking the boys what things they thought they might need in a roadside kit. One of the first things they said was "jumper cable" (at least they knew what they are)!
MYCHANIC creates some really smart garage essentials that make some basics even more useful and their Smart Cables were the first things I put in the bag. To the boys the coolest thing about these is that the LED voltage meter lets you know in real-time the voltage level of your battery. I also love that the reverse polarity indicator tells you if the cable connection is incorrect so there's no confusion if they forgot what we taught them (always follow recommended safety guidelines).
Another thing they knew they needed was flashlight so we threw some of those in there too. All my boys have a thing with flashlights so they were all wanting to check out the Blade Multi Light which is a new favorite in this house. It has a nice bright 250 lumen output, high, low and red emergency flash modes, it folds for compact storage, has dual, adjustable lighting angles and the base sticks to any magnetic surface!
Some other items you can store in your teen's roadside kit are:
Laminated card with phone numbers
Towel(s) and paper towels
Flares or reflectors in addition to your flashlight
Coolant
First-aid kit
Tool kit with screwdrivers, pliers, adjustable wrench, pocket knife
A can of tire inflator and sealant
Tire pressure gauge
Ice scraper (if you live in an area with snow)
Pen and paper (to write down info from a phone call if necessary)
Granola bars/MREs (nothing with chocolate that can melt and get gross)
Bottled water
While I still have a few months to go, anytime is a great time to start prepping kids to be independent right?! So have them watch in the garage, hold tools, help out when you're fixing something or putting together your own kit! Check out MYCHANIC's other awesome essentials too because if they work out as great as these did, they'll be your new favorites too.