I Like It FRANTIC!
Making It Easy For DIY Mechanics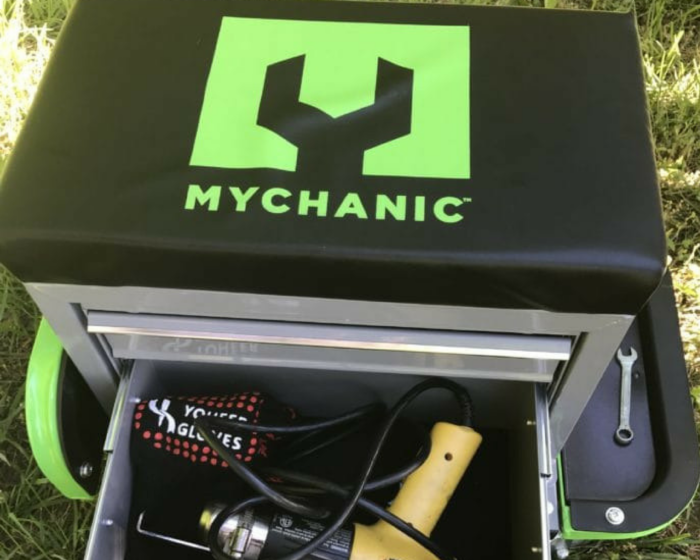 DIY maintenance doesn't have to be hard and its easier if you have the right tools, whether you're male or female!

It's no secret that I've been taking on more and more of the car duties in our house. The biggest thing is that I spend so much time working on Charlie's kart that I've learned more than I ever imagined I would. I've been able to learn how to change the oil, drain his carburetor, scrape tires and this year the goal is to learn how to change the spark plug. But this rolls over into fixing things at home too.
If I can change the oil on his kart, I can change the oil on the cars too. The key to it is to know what you're doing and to make things as easy as possible for you. DIY maintenance doesn't have to be hard and its easier if you have the right tools, whether you're male or female! I fell in love with mechanic stools last season and desperately wanted. No seriously all I asked for last Christmas was a wire twist tool and a mechanic stool. I got the wire tool but Steve wasn't sure which stool to get so I waited. And then I waited some more. It was something I wanted but it wasn't a must have. I'm really glad I waited since I had never heard of the MYCHANIC line and it has by far been the best looking and most functional stool to date. I was even more surprised when they sent me one of the Side Kick Stools and the Blade Multi-Light to work with and see how well it work with our lives.
The first thing I was looking for in a stool was something that would help keep tools close by. There's nothing worse than getting ready to work and you have to get up 13 different times in order to get a tool. The MYCHANIC Side Kick Stool is multifaceted in the tools close area. First off there are two drawers under the seat. It was so nice to have our all the time use items right there. No longer having to go hunting for them over and over again.
The bottom drawer is a little deeper and I was able to nicely fit our heat gun, heat gloves and even the gas siphon and alcohol fuel lines in the drawer. The top drawer while not as deep still holds quite a bit. It now has our most used 10 mm wrench, tire gauge, adjustable wrench, spare rag and T Handle hex wrench. These are things I use every single time we're at the track and every single time we do maintenance on the karts. I can see doing regular car maintenance for your car with the oil filter clamp, oil filter, spare rags and screw drivers all ready to go.
But that's just the first two spots for helping making it easy. Each side has a folding tray. These trays fold up and are held in place with a strong snap system. But the trays themselves are magnetic. As you're working on the car, you can easily place your nuts, bolts or screws right next to you and just reach over to grab them. No more getting lost.
The final tool spot is the tool rack built into the back of the stool:
You can easily slide screwdrivers or wrenches into the slots and they are ready to go when you are. We use this feature some when at the track because it's an all day thing. When scraping tires I use a long handle screwdriver to clear the heat gun of build up. I have to keep that to the side though because it gets hot. This allows cool air to flow around the shaft and it cools fast.
Whether doing maintenance on your car or working on a go kart in the middle of the race track, there are going to be times when the sunlight fades and you're left trying to finish a job in the dark. The MYCHANIC Blade Light is amazing for working on this. Not only is it a great flashlight but its a multilight. My personal thought is that every single car should have one in the trunk. Not only are there two different levels of brightness for the white lights but there is also two red flashing emergency light modes. This is why I think it's important to have at least one in every car. As a mom who travels a lot with the kids by myself, there has been at least once where the kids and I were traveling, and wound up with a flat tire. Thankfully it was the middle of the day but in the night it would be hard to change the tire and not be worried about getting hit or just making sure everyone around is saw us clearly. This light looks almost like a pair of nunchucks straight out of the package but it means that it can be maneuvered into all sorts of positions to make the light get to where you really need it. the other day we were putting up tire racks in the trailer. It was dark and the light came in handy. I turned it on and used the loop at the end to hang it easily on a hook and project light exactly where we needed it.
Its time to make life easier for DIYers, get us all more involved in doing our own auto care and most importantly be efficient and multifunctional.