Cinnamon Hollow
No More Scraping With This Awesome Product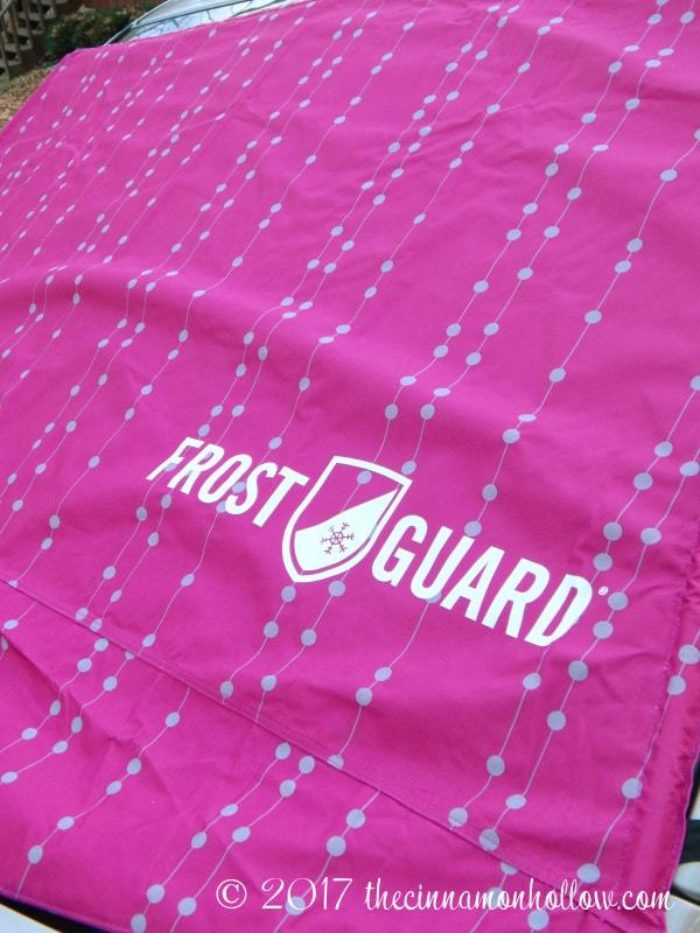 There is nothing worse than frozen windshields or, one covered in snow in the winter. Ok, some things are worse but that is right up there in the list. We don't, currently, have a garage or car port. Since I'm now driving the kids around 10 miles to the nearest bus stop each morning, I needed something that would help keep my windshield de-frosted or make it easier to scrape, quickly.
I teamed up with FrostGuard® to show you a windsh
ield cover that keeps our windshield frost free!
I've tried covering my windshield in the past. But everything I tried always stuck to the glass or blew off. Scraping takes too long and if the windows are really frosted or, covered in a ton of snow, up can be difficult to do. Plus, I just don't want to stand out in the cold doing it. Call me lazy but I don't want to do it if I don't have to. I'd much rather have something that I can put on at night and forget about it until morning.
The FrostGuard® Windshield Cover is super easy to put on. It has elastic straps that go around the side-view mirrors. This keeps it on even if the wind is blowing. There is a panel that hangs down over the windshield wipers to keep the from freezing up as well.

There is also a flap that can be slid inside the door jam. This flap helps keep the FrostGuard® cover in place and unable to be completely removed. So it won't be stolen. I do wish it had the safety flap on each side and not just the driver side. But this keeps you from having to open both doors to remove it. In a safety situation, where you want to get the cover off quickly and into your car, like in a parking garage, this is handy.

According to the Bureau of Justice Statistics, more than 1 in 10 property crimes occur in parking lots or parking garages. Add in freezing winter weather and safety concerns can rise even more.

There are also covers that can go on the side-view mirrors so you don't have to scrape those either! It has pull-strings to keep them in place. They work great!

The entire system works great! I applied the FrostGuard® Windshield Cover to my windows the night before we were expecting a big frost. The next morning, the cover came right off and I did not have to scrape a thing.
About FrostGuard:
Form and Function: our patent-pending design is a 20-second solution to a 20-minute problem.
Versatility: our adjustable Fit-Fast® strap system attaches to the Top 100 Vehicles sold in the United States and provides a custom fit, every time.
Ease of Use: installs and removes in seconds.
Security Panel: for added safety protection.
Durability: constructed from weather-resistant materials and water-resistant PVC backing.
2 sizes available: 61" x 32" (Standard) and 70" x 32" (XL).
Fits most cars, trucks, SUVs, minivans and station wagons
Includes a quick-drying storage pouch
These covers are the perfect thing to keep from haven frozen windshields.