Akron Ohio Moms
Easy Solution to Scraping Snow and Ice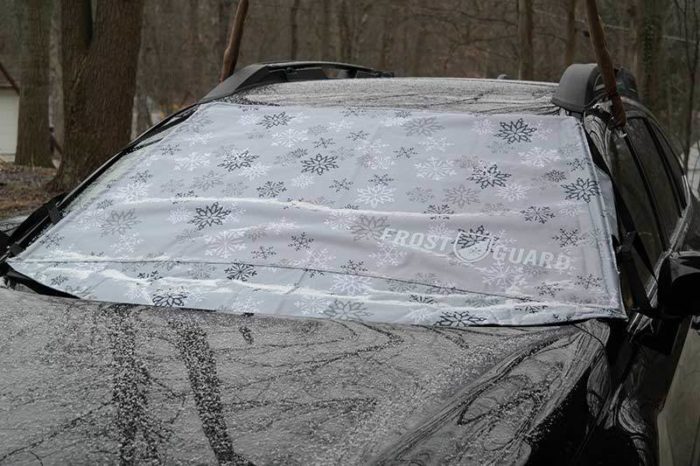 The snow is here! How much time did you waste scraping the snow and ice off of your windshield this morning? Although my cars were out all night, it only took me 20 seconds! We only have a one-car garage so at least one of our cars is outside all winter. I always dread scrapping the snow and ice from my windshield and it always makes me late because I never allow the time it takes to clean the windshield.

Now I have a "20 second solution to a 20 minute problem" with FrostGuard. I seriously love this product because it is so easy to use and effective! It is going to save me so much time this winter!

Simply place FrostGuard windshield protector on your car every time you get out of the car. It takes just seconds to put on your car. The adjustable Fit-Fast® strap system attaches to the Top 100 Vehicles sold in the United States for a custom fit, every time.
Then remove it when you are ready to leave. It comes off fast and your windshield will be clear in just seconds! FrostGuard is a low cost way to a cold weather problem we all face!
We've purchased other products similar to this over the years but none of them were durable or worked well. This is different because it is constructed from weather-resistant materials with a water-resistant PVC backing – it is built to last through all our Ohio snowstorms!
FrostGuard comes in 2 sizes that fits most cars, trucks, SUVs, minivans and station wagons. We use the 61" x 32" (Standard) for our Outback and it fits perfectly. For larger vehicles, use the 70" x 32" (XL). It is available in stylish colors, prints, patterns, and even sports team prints. FrostGuard is the perfect gift for all drivers this year.
Even if you have a garage at home, you need FrostGuard to protect your car while at work or shopping! There is a security panel that drops in between the door jam and window to prevent theft too.