Mom Knows It All.
HOLIDAY GIFT GUIDE – FrostGuard Covers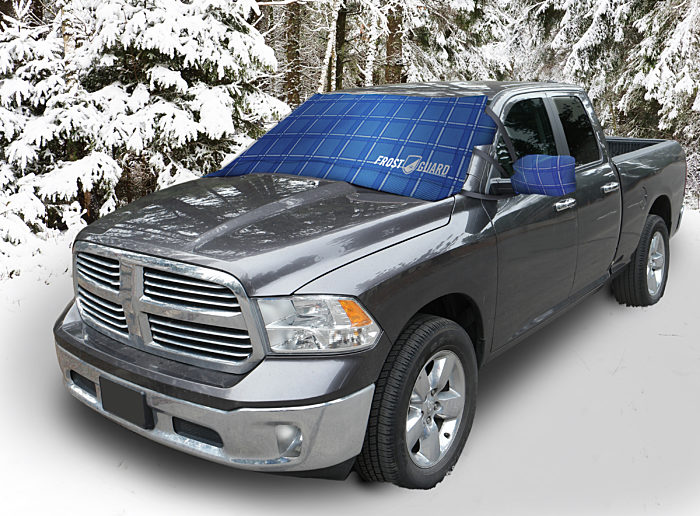 I don't particularly enjoy winter. I don't like to be cold. The way the weather impacts driving is just a pain in the butt. Frost and ice necessitate scraping. I don't know anyone that actually enjoys standing out in the cold on an early morning or late night scraping their windshield. Enter FrostGuard Windshield Covers.

On cold dark Winter mornings, the last thing you want to do is spend 20 minutes scraping ice and snow off your car. Thanks to FrostGuard®, you can skip the scraping with their unique windshield covers that keeps ice and snow from hindering your morning commute.
Aside from the cold and potentially inclement weather we don't relish standing in, let's talk safety.
According to the Bureau of Justice Statistics, more than 1 in 10 property crimes occur in parking lots or parking garages. Add in freezing winter weather and safety concerns can rise even more. A low-cost way to prepare for winter while staying safe is to use a FrostGuard windshield cover—-they are durable enough to handle anything Mother Nature decides to drop and also feature a security panel that can be dropped in between the door jam and window to help prevent theft, making it ideal for parking lots and public places.
FrostGuard's patent-pending design is a 20-second solution to a 20-minute problem. There are two different windshield cover sizes available: 61" x 32" (Standard) and 70" x 32" (XL). Having two sizes means that FrostGuard will fit most cars, trucks, SUVs, minivans and station wagons. Some of the vehicles that FrostGuard works on include Audi, BMW, Buick, Cadillac, Chevrolet, Chrysler, Dodge, Ford, GMC, Honda, Hyundai, Infiniti, Jeep, Kia, Lexus, Mazda, Mercedes-Benz, Mitsubishi, Nissan, Scion, Toyota and Volkswagen. In fact, FrostGuard is so versatile that their adjustable Fit-Fast® strap system attaches to the Top 100 Vehicles sold in the United States and provides a custom fit, every time.
FrostGuard is constructed from weather-resistant materials and water-resistant PVC backing, making it durable. The product is easy to use, with installation and removal taking only seconds. It's available in stylish colors, prints and patterns to reflect any personality. A quick-drying storage pouch is included with FrostGuard for storage purposes.

Check out FrostGuard as a great holiday gift idea! It's a very reasonably priced gift idea that's available at retailers nationwide and online.
PURCHASE
You can purchase FrostGuard Windshield Covers online. You will also find FrostGuard at select retailers nationwide.
CONNECT
Learn more about this and other products on the FrostGuard website. You can also keep up with FrostGuard on social media, on Facebook, Twitter and Instagram.