DELK Press Release
Simplify Repairs With New Product Line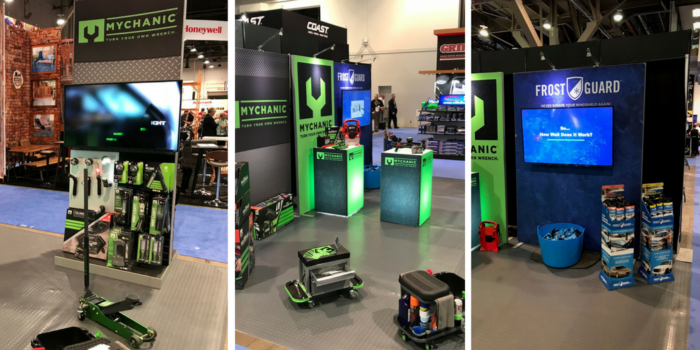 NASHVILLE, TENN., May 1, 2017 – MYCHANIC is showcasing its innovative functionality at this year's National Hardware Show with four new products. Appealing to both auto enthusiasts and DIYers, the garage essentials brand bolstered its product lineup to include the Tool Creeper, Detailing Rig, Blade Multi Light and Pod Light.
"We strive to consistently enhance our existing products and evolve our product line by pushing the limits of what the average tool can do," said Don Barnes, founder and president. "These new products align with our quest to create authentic tools that feature unique designs and multipurpose function to simplify and enhance the at-home mechanic experience."
Blade Multi Light
Leaving nothing in the dark, the 250-lumen, pivoting Blade Multi Light has adjustable lighting angles to illuminate tight spaces. Featuring a metal hook for hanging, the Blade Multi Light offers high, low and red emergency flash modes and folds for compact storage.
Pod Light
Not much larger than a baseball, the lightweight Pod Light packs a powerful punch with 300 lumens. It sits atop a magnetic base and can rotate 180 degrees.
Tool Creeper
An easy-rolling tool organizer is complete with swivel casters for maneuverability, three recessed storage compartments and easy-grip handles on all sides.
Detailing Rig
The perfect companion for wheel cleaning and panel detail work, the Detailing Rig features an integrated bucket dolly, bottle racks, storage tray, peg board, cup holder and a plush EVA cushioned seat.
Other notable products to be featured at the show include:
FLEX LIGHT
The compact, 9" light is small but mighty with a 215-lumen output, flashlight setting for focused lighting, pivot handle, magnetic base and rotating 360-degree hook that allows for hands-free use.
RECHARGEABLE PIK LIGHT
As MYCHANIC's signature light, the 250-lumen output is a multi-functional, telescoping tool that keeps your workspace clear. It also features a retractable, magnetic pickup tool, magnetic base and rotating 360-degree hook.
GRIP LIGHT
Powerful and portable, the Grip Light provides powerful lighting (28 LEDs) with focused settings and a dual mode floodlight with two settings to give you the light you need. With a rotating 360-degree hook and no-slip rubber grip handle, you can hold it, hang it or stand it.
A/C POWERED MEK LIGHT
Bright and adaptable with a 900-lumen output for indoor and outdoor visibility, a no-slip grip handle that converts into a tripod stand and a dual mode floodlight with two settings to illuminate what you need.
RECHARGEABLE MEK LIGHT
This rechargeable light features a 650-lumen output perfect for lighting up dark roads or old tool sheds. Hold it, hang it or stand it with a no-slip grip handle that converts into a tripod stand.