Mustang 360
LED Task Lighting Illuminates Projects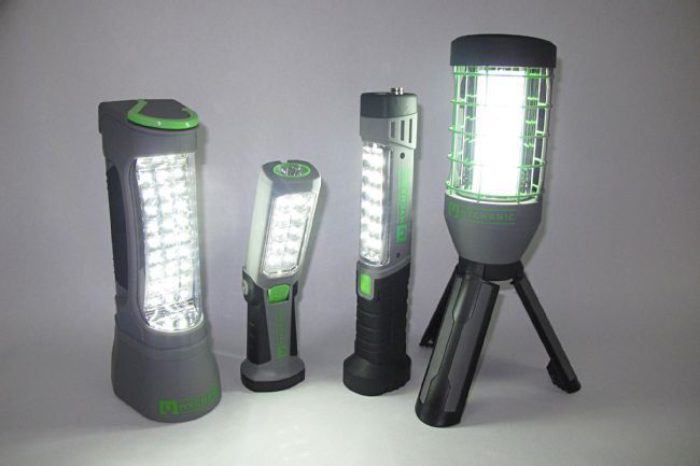 Pick up some LED lighting to add to your tool box to see what you're doing.
Getting enough light to see what you're doing is always a challenge when working on cars. Many of us work on our projects in the evening after dinner/work/family in your typical home garage. If you're lucky there are a couple of four-foot fluorescent light fixtures (that you may have installed yourself) but more often than not the sole light source is a single 60-watt bulb in a centrally mounted fixture or the one or two light bulbs on your garage door opener. Far from ideal lighting when you're working on your Mustang at night after you've put the kids to bed.
I'm sure many of you have the traditional drop light or maybe a set of those yellow halogen work lights that you could fry an egg on. During the summer the last thing you want is even more radiant heat in your garage; am I right? If you still use a standard drop light with a screw in bulb, we highly recommend the next place you "drop" it is right in the trash. These not only give off excessive heat as well, but have been known to start fires when accidentally dropped and the bulb shatters. They're bad ju-ju in today's automotive work environment, even the plastic bodied ones.
With the advent of high power light emitting diode (LED) technology, which is even used by the OEMs for automotive headlight applications, LED illumination has come a long way from its early days. Of course you get what you pay for as well and those $4.99 LED flash lights from the swap meet are not what we'd recommend. Quality LED task lighting that is also flexible to your work needs is a must in today's home garage as much as it is in a pro's shop. That is why the folks at Mychanic [https://mychanic.us] have launched a complete line of LED lighting products that'll help you get the job done. We grabbed a few of their latest LED products to check out for ourselves. See the details in our captions here and in our test photos.
1. Since we mentioned the old fashioned drop light in our intro, let's begin with its modern day replacement, the rechargeable LED MEK Light. This light features a 650 lumen output on high (also has a low setting); can be hand-held, hung by the built-in hook, or set on a surface. The included chargers can be used with a 110-volt outlet or a 12-volt automotive power port. An AC powered version is offered as well.
2. The built-in hook, a feature to all of Mychanic's LED task lighting line, is a full 360-degree swivel design, allowing the light to be hung from under the car, under the hood, etc. and positioned where the light is needed.
3. Closing the tri-pod style legs (which have magnets to hold them closed) you can easily grasp the LED MEK Light to use it to illuminate your way through a dark shop or to hand-hold in locations where the light won't stand or hang, such as under dash work.
4. Next up we checked out Mychanic's other rechargeable offering, the LED PIK Light, which retails for $29.99. The PIK Light features 250 lumens of output from its 12 LEDs (there are three LEDs on the top to use in flashlight mode). The PIK Light has a high and low illumination setting with a comfortable grip and easy to access switch.
5. The PIK light gets its name from the built-in magnetic pickup tool. That's right; in the unit is a 24-inch long telescoping pickup tool with a flexible magnetic tip. It can be used in conjunction with the built-in LED flashlight to find that stray fastener without having to double back to your tool box for your old school "mechanic's fingers" device.
6. Like the MEK Light, the PIK Light is fully rechargeable and the built-in Li-Ion battery can be charged from a standard 110-volt outlet or via a 12-volt automotive power port. Note however that the MEK and PIK use different connectors, so unfortunately you can't use one charger for both lights.
7. The PIK Light's base is designed to aid in hands-free use with both a 360-degree swiveling hook for hanging and three powerful magnets to hold the PIK light to any metal surface.
8. This little gem from Mychanic is one of our favorites (right after the PIK Light) and is called, appropriately, the LED FLEX Light. The FLEX Light illuminates your workspace with 215 lumens from just 10 LEDs. Like the PIK Light, the FLEX Light also features a dedicated flashlight mode with a single LED in the top end of the housing and a 360-degree swivel hook for hanging.
9. The FLEX Light will pivot at its mid-point roughly 45-degrees in both directions. Pivoting forward does obscure the power switch, so be sure to power the light on (high or low) before pivoting the head of the light.
10. The LED FLEX Light is not a rechargeable unit, taking three AA batteries, but Mychanic provides a set of batteries in the packaging to get you going right out of the gate. The base of the light also houses four magnets for hands-free use in situations where you can attach the light to a metal surface.
11. Last, but not least, we have Mychanic's LED GRIP Light. This light features a super-bright 600 lumen output from 36 LEDs for a broad pattern that will light up your work area. A swivel hook for hanging is built into the top of the light housing.
12. The base of the GRIP Light has a single LED flashlight and is also where the three AA batteries (included) are inserted. Due to the size of the GRIP Light there are no magnets in the base of this light, but there are rubber anti-slip feet.
13. Traditionally, engine bays are dark places where light is hard to get into due to the hood blocking a fair portion of overhead lighting. Using portable LED lighting, in this case the Mychanic PIK Light, we were able to easily illuminate our engine bay as if we were working in total daylight inside our garage.
14. We waited until nightfall and then tested the Mychanic GRIP Light in a typical situation; changing a flat tire on the side of a dark road. The GRIP Light easily filled the work area with bright, clean lighting that would allow easy and safe changing of the tire.
---
While Mychanic primarily markets LED work lighting, they do offer a few other tools Mustang owners might be interested in, including a cordless impact gun with LED light, a portable rolling work stool, and these trick flat wire jumper cables that store in a roll-up reel. The Jump & Drive Booster Reel are available in a 6-gauge 16-foot reel or a 4-gauge 20-foot reel. We're showing the 4-gauge setup here in these photos. Both cable sets feature copper clad aluminum wire that is molded in a flat cable pair for easy reeling in and out. The cord reel system means your cable will always be easy to access in your trunk with no tangles or mess thanks to the retractable reel system.