San Diego Union - Tribune
Helping Hands For DIY In The Garage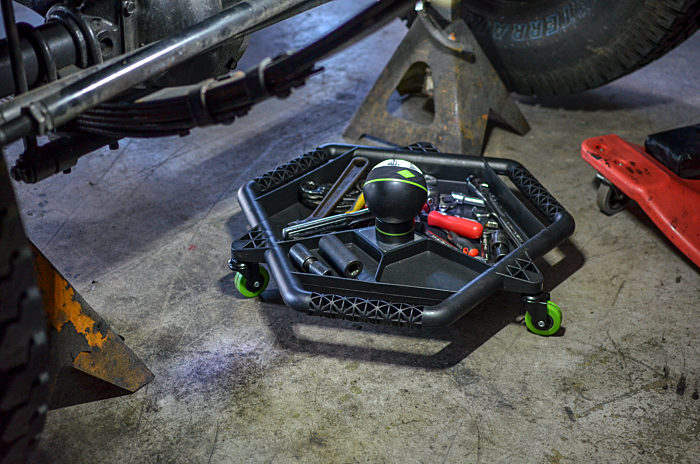 Remember when you were taught to change a tire? First, open the trunk and check that the spare has air. Dig around to find the jack and lug wrench jack handle, which was a combo deal with the lug wrench on one end and a flat blade on the other. Then set the car's parking brake, chock an opposite wheel with a rock or block of wood, then pop off the hub cap with the blade-end of the jack handle. Break loose the lug nuts and jack up the car just enough for the wheel to rotate. Spin off the lug nuts and put them in the upside down hub cap.
It's that hub cap part that I miss. How handy it was as a tool caddy. But it is back in a better format as MYCHANIC's Tool Creeper. Except you will use it in your garage, not along the side of the road.


The Tool Creeper and Pod Light

The Tool Creeper is a rolling tray with six sides. There is a large section for tools, two smaller sections and three grab handles. The Tool Creeper is supported by three easy-rolling urethane casters. Also clever is a center steel disc to hold the magnetic Pod Light.

The magnetic base of the pod light fits solidly on the Creeper and the beam can be swiveled 180 degrees to shed spotlight power on dark areas. The round bulb is about the size of a baseball and packs 250 lumens with high and low settings.
The illumination is roughly spotlight strength or about as bright as a miniature disco ball. Because the base is magnetic, the Pod can be stuck anywhere there is steel, such as an engine bay, frame or body panel.
The round bulb is about the size of a baseball and packs 250 lumens with high and low settings.
The Creeper will support 30 pounds, but I'm sure that kids in the garage would see a new game of "skim creeper." And if not children, take care not to step on the Creeper and do your own creeper dance.
Smart Booster Cables

MYCHANIC's Smart Booster Cables take the sparks out of jump starting a vehicle.
Those of us who have more than one car are very familiar with our jumper cables. Yes, we should keep our secondary vehicles tethered to a battery tender, but we'll get around to buying one soon.

Until then, we hassle with jump starting and are too often greeted by a very dead battery — and likely one that we've managed to kill off before its time had come (Yes, that would be me).
I shouldn't let my second car sit for weeks at a time, but I do, because I drive test cars for review every week, and sometimes two cars.
The 12 foot-long, medium-duty cables (six-gauge) are pliable and tangle resistant.
The last time I went to start my 2008 Ford Escape Hybrid the battery was d-e-a-d. "Hadn't I just driven it a few weeks ago?" I wondered. Apparently not, so I dragged out the battery trickle charger and left it connected overnight. But the next day there was nothing. No cranking, not even a click, which brought beads of concern to my brow.
For a second opinion, I pulled out the MYCHANIC Smart Booster Cables for some rudimentary diagnosing.
These cables have an LED voltage meter that indicates the voltage level of the battery, and a reverse polarity indicator alerts users if they have made an incorrect connection. Those features help take the guesswork and sparks out of jump starting your vehicle.
But more important for me was that the voltage meter indicated the battery was fully charged. Hallelujah, I hadn't killed it. Because my car is a hybrid I just needed to do a simple reset of the power system.
The Smart Booster Cables are intended to be dummy proof and can be used by the uninitiated. The smart aspect of the electronics prevents disaster if the cables are hooked up incorrectly — the meter gives one type of tone for a bad hookup or a positive tone when the red cable is on the positive (red) battery post. The cable grips have good leverage and do not require herculean hand strength to squeeze open. They will connect just as easily to side-mount posts as the top posts.
The 12-foot-long, medium-duty cables (six-gauge) are pliable and tangle resistant. Their copper clad aluminum construction is good for up to minus-13 degrees. If it's colder than that, you'll have bigger problems than a car that won't start.
MYCHANIC is a fairly young brand specializing in garage products for do-it-yourselfers. Each product I have tested has been of high quality and fairly priced.