Kori At Home
Gifts For The Home Car Repair Person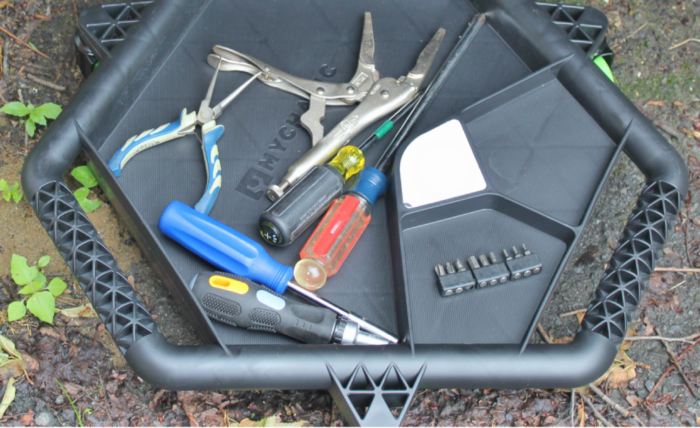 Do you have a DIY enthusiast in your life? Someone who enjoys getting their hands dirty and wants to do as much of their own car repair as possible? Then you are going to love this conversation sponsored by MYCHANIC. We are absolutely thrilled to partner with them! Whether you're looking for garage essentials for yourself or someone else; we have some really useful things to show you.
I'll be the first to admit, I kind of wanted to keep that Pod Light for myself. Sure, I'm not the DIYer or repair person in the family (most of the time), but doesn't that look cool? I thought it would be great for home use.
I mean, look at how versatile it is!
Effortless light where you need it the most. With 300 lumens and a magnet base, MYCHANIC's POD LIGHT is omni directional, sticks to magnetic surfaces and fits in the palm of your hand.
300 lumen output
High and low light modes
Omni directional
Base sticks to any magnetic surface
Think about how useful that could be! Of course, Kyle recognized that as well so the Pod Light has now been included with his tool box. Not that I can't borrow it from time to time.
Moving on.
We don't really do gifts. For the kids, yes. But for us? Not so much. I bought him a few Christmas presents and birthday presents but I don't expect to receive anything in return. It's not how we work. I won't get all sentimental on you, but it's just not what we do.
We're not materialistic, you know? So it's less about the stuff and gifts. It's more about appreciation and voicing that appreciation.
Is it nice to get gifts? Of course.
But where he's concerned, unless it's football merchandise, I'm not always sure as to what to get for him. He might say the same for me (which is entirely easy- get me money or gift cards- I'll take care of it).
So what do you get for the DIY or home car repair person in your life? You get them garage essentials that will make the job easier.
Like this Creeper Tray, for example.
At almost 2 feet in diameter, with handles on each side, the MYCHANIC Creeper Tray has three compartments to keep your tools separated and sorted. It rolls wherever you need it to be, and you remember that neat Pod Light? The Creeper Tray has a magnetized plate just for the light.
So this one, I might not be so tempted to borrow but still… Kyle has found plenty of use for this. Whether he's working on his car(s) outside or tackling a project around the house.
The problem then becomes keeping our 3 year old off of it and not using it as a skateboard.
It also comes in handy for storing tools that he may not need (but I brought out because I have a difficult time telling things apart). I mean, really… don't ask me to go find something unless it's well known. I'm not completely DIY illiterate but I know my crafting scissors better than I know types of wrenches.
Suffice it to say though, this Creeper Tray is a lot more portable than a big bulky box with wheels. And I know that it's something he'll be able to use- indoors and outdoors. For all types of repair projects.
Do you know someone in your life who could make use of these garage essentials?