DELK PRESS RELEASE
DIY Network New Product World Award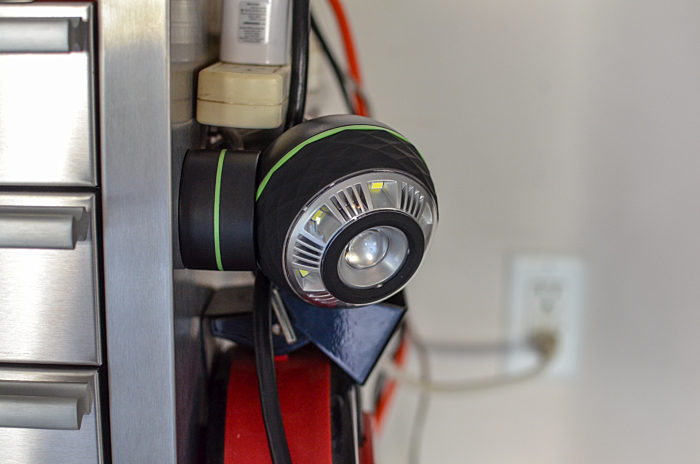 MYCHANIC has won the New Product World's Overall Value Award for its recently launched POD Light.

Presented by the DIY Network at this year's National Hardware Show in Las Vegas, the New Product World Awards recognize products that are breaking into the industry and identified as best in class within the following categories: Aesthetics, Differentiation/Uniqueness, Fills Consumer Need, Overall Value and Packaging/Merchandising Support.

"I'm honored that the DIY Network has recognized our POD Light with its Overall Value award," said Don Barnes, founder and president of DELK. "This award underscores our continued commitment to create authentic, unique tools with multipurpose function to simplify and enhance the at-home DIYer experience."
This patented omni-directional light, not much larger than a baseball, can take on any task with its 250-lumens of targeted light. Its base can stick to any magnetic surface for 180-degree of rotating, hands-free use, or if needed, can fit neatly in the palm of one's hand.
The POD Light is one of three new MYCHANIC products released this year. These new offerings appeal to both auto enthusiasts and DIYers and include:
TOOL CREEPER
An easy-rolling tool organizer—complete with swivel casters for maneuverability, three recessed storage compartments and easy-grip handles on all sides.
BLADE MULTI LIGHT
Leaving nothing in the dark, its 250-lumen, pivoting head has 270 degrees of adjustable lighting angles to illuminate even the tightest of spaces. Featuring a metal hook for hanging, the rechargeable Blade Multi Light offers high, low and red emergency flash modes, and easily folds into a sliver-thin presentation for compact storage.
Other notable products in the line-up include:
SIDEKICK STOOL
Stop straining your back and crushing your knees in the garage. Glide around your project in comfort and keep tools within reach. Our rolling tool chest stool combines plenty of space to keep your tools handy, with a comfortable, deep-cushioned rolling seat to keep you off the ground.
2 TON HYBRID FLOOR JACK
Our low-profile jack is designed to roll under the lowest of cars and trucks with saddle heights from 3.5" to 18.1". It lifts up to 4,400 lbs. with overload protection and looks good doing it.
FLEX LIGHT
The compact, 9" light is small but mighty with a 215-lumen output, flashlight setting for focused lighting, pivoting handle, magnetic base and rotating 360-degree hook that allows for hands-free use.
PIK LIGHT
In addition to its 250-lumen output, this garage essential is a multi-functional, telescoping tool that keeps your workspace clear. It also features a retractable, magnetic pickup tool, magnetic base and rotating 360-degree hook.
GRIP LIGHT
Powerful and portable, the Grip Light provides powerful lighting (28 LEDs) with focused settings and a dual mode floodlight with two settings to give you the light you need. With a rotating 360-degree hook and no-slip rubber grip handle, you can hold it, hang it or stand it.
MEK LIGHT
We say you can hold – hang – or stand this light. The tripod stand collapses to create a torch light, and there is a hook on the top that rotates 360-degrees. Its adaptable flood light has 2 settings: bright and brighter. Available in A/C powered (900 lumens) or rechargeable (650 lumens