CJ Holt | Fuel Curve
The All New And Way Cool MYCHANIC Stool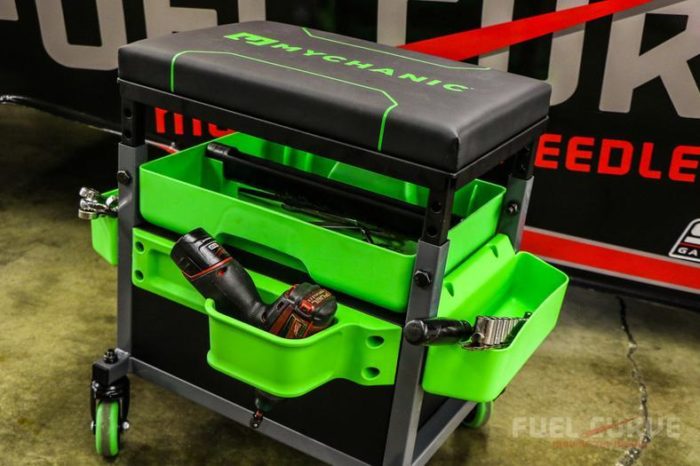 For a very affordable price, you DIY guys and gals can add this helpful and effective product to your home or pro build shop. It will make your life easier and that's money well spent.
Well thought out and fully functional with car guys in mind, this new garage stool features an adjustable height seat, removable tool caddy, and a handy tray for your mobile device. I mean let's face it, who doesn't watch YouTube for mechanical tips? And for that reason, the mobile device tray is BRILLIANT!
NOW FOR SOME SPECS:
The cushioned seat raises from 17.75" to 20.75" offering comfort for every body type. And for you bigger rodders, the handsomely powder coated steel frame easily supports up to 350 lbs. The 3-inch "speed casters" glide over rough surfaces. Speed Casters for the win! The deep, padded drawer slides on ball bearings for a precision feel.
It also has a handy power tool holster and bins for those tools and items you need the most when engaging in a garage project.
To celebrate the release of this new product, our friends at MYCHANIC are throwing in a swag pack which includes a shop towel, can koozie to keep your adult beverage cool, a spark plug gapper and a neat sticker!
While relatively new to the performance aftermarket, MYCHANIC sure offers some effective and helpful products to garage warriors worldwide. These guys know what's up!
Click here to order your MYCHANIC Sidekick Stool - SK2.