All Things Fadra
Making Car Repair Smarter and Safer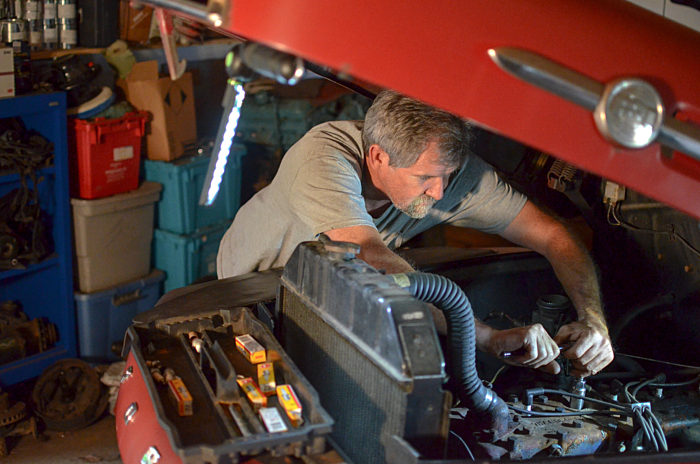 A few years ago, there was a progressive car company that took an aggressive approach to appealing to women. They recognized that women cared just as much about mechanics of the car as they did the aesthetics. They didn't need to be able to take the engine apart and put it back together but they needed to know more than where the vanity mirror was.

Unfortunately, that car company was Saturn and they're long gone but their appeal to women in this 1990s commercial was sound.
With newer cars becoming much more electronic than mechanical, the idea of "working on your own car" is not only less appealing but sometimes more difficult. We're required to go to the dealer or put our faith in a mechanic to tell us what repairs we need and what it will cost (which, by the way, is often different than what it should cost).
I think women (and men, for that matter) should feel empowered when it comes to their own vehicle. They should understand the basics about tires and tire maintenance. They should know about different types of oil and oil changes. They should be able to look under the hood and at least know where all the fluids are.
And they should have a working knowledge of where all the systems are: exhaust, fuel, engine, and braking, among others.
Once you have a working knowledge, you might even feel empowered to actually "work on your own car." Here are a few tips to get you started.
1. Buy a few tools.
We used to live near a guy who was the nicest guy in the world. But he wasn't the handiest. In fact, one day, he came to our house so he could borrow tools to assemble a tool chest he had just bought. Anyone else see the irony here?
Good tools are worth the investment and even a few basics can make you feel empowered to tackle small projects on your car and around your house.
I always think my husband owns too many wrenches… until he has exactly the one I need. Here's my rule: If my husband already has it and I can't find it or it's too difficult/big/heavy to use, I buy my own!
2. Make it easy to use your tools.
Nothing is worse than getting yourself in a tight spot somewhere in/on/under your car and having the exact tool you need just out of reach. That's where the MYCHANIC Tool Creeper can help you out.
Our driveway is on a hill so sometimes a rolling creeper needs a little help NOT to roll. It's big (almost 2 feet in diameter) with handles on each side so it's easy to grab and roll it over to you. It also has compartments to keep your lug nuts from rolling into your wrenches.
3. Have a helper.
They say it takes a village to change brake pads.
Oh wait. I think that saying was about something else. Regardless, creepers can help but so can others. In fact, when my husband was working on my brother-in-law's brakes, my brother-in-law was right there helping with muscle or fetching other tools. And I helped too. I documented it all!
(Actually, if you've never see what a brake job really means, I explain it all for you in my video below.)
I was also nearby with the MYCHANIC Blade Multi Light. Using 250 lumen output LED, this blade multi light can pivot, spin, or bend to reach an out of the way or difficult area to see. Sometimes the wheel well is the perfect place for extra lighting.
The MYCHANIC Blade Multi-Light is not just for wheel wells! It also came in handy when my husband was dissecting his motorcycle.
4. Keep a few items in your car "just in case."
If you do get into a jam while away from home, it helps to have a few things in your car in case you need it or in case you simply want to be a hero for someone else.
That awesome MYCHANIC Blade Multi Light that I mentioned above? It has a high and low setting but also has a red flashing emergency mode that could be vital if you're ever in an emergency situation.
The MYCHANIC Blade Multi-Light has high and low output settings as well as a red emergency flashing mode.
Also, consider carrying a set of booster cables in the back if you ever need a jumpstart. Here's why I love the MYCHANIC Smart Cables. I'm not afraid of anything mechanical but electrical scares me. The Smart Cables have a reverse polarity indicator to let you know if the cable connection is correct. And you can easily use the LED voltage meter to let you know where your battery actually stands. Always follow recommended safety guidelines!
MYCHANIC Smart Cables take the guesswork (and fear, in my case) out of jump starting.
Using MYCHANIC to do your own brake job!
While MYCHANIC doesn't have the tools you need to do something like your own brake job, they have the tool products and tool accessories to make those jobs easier. Here's a quick peek at what we thought of our MYCHANIC products and how I learned a thing or two about doing my own brake job!
Whether you're looking to stockpile your own garage for a few automotive DIY projects or you want to find some ideas for the DIY dad in your life, remember Father's Day is soon and MYCHANIC has some great ideas to help you get to work.