Joe's Daily
Round Out Your Garage Essentials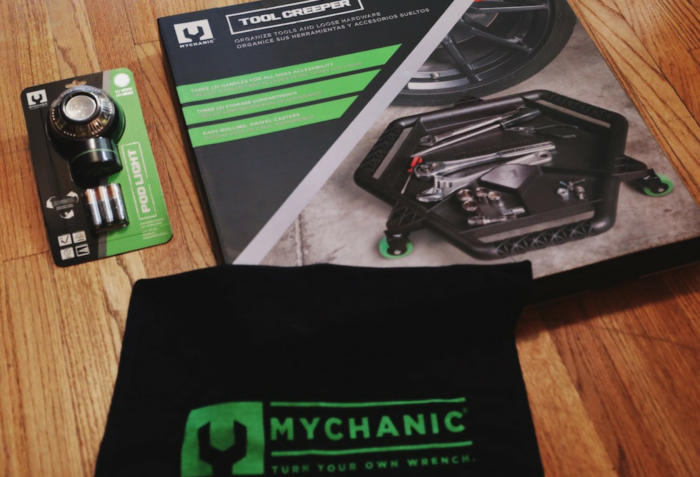 If there's one thing that can be said about my father, it's that he's an incredibly handy man. From gazebos to pole barns, the guy was always building something. Not at all that this is what he was limited to.

He ran his own irrigation through the acres of gardens he made, repaired everything from toasters to digital pets, and if there was ever a problem with one of our cars, he was usually able to save us from having to go to a mechanic. As with most other kids, my parents were superheroes to me. So, with all this said, I was always obsessed with his tools. There were a ton of them and they were all used and worn like artifacts. Obviously the magic has since worn off, but I still look up to my dad greatly in this regard so anytime I get a new tool or gadget, I feel like I'm a little bit closer to superhero status (aka, being super self-sufficient) myself.
The latest addition to my personal future artifact stockpile is the Tool Creeper + POD Light combo pack from MYCHANIC. I've found it to be one of those things that you don't realize just how badly you needed until you have it. I think I never bothered with anything like it until this point because it seemed a bit like an "extra" to me. You didn't NEED it to get the job done, it just helped, right? I have to say, knowing now how useful these things are kind of makes me feel like my logic was about the same as thinking a hammer only "helps" drive a nail into the wall (you could use a rock, right?). No. They're pretty solidly garage essentials.
Speaking to size, the MYCHANIC Tool Creeper is 2 feet in diameter, so it's pretty big. No need to have to plan out exactly what you'll be needing during different stages of your project. And if the worry is keeping everything organized with the potential to have so much on a single tray, it has three compartments to keep things sorted. The Creeper can roll along with you, whether under a car, or just to another part of your workspace. It also comes with a magnetic receiving plate for its equally useful buddy, the POD light—which I will be telling you about…….now.
POD Light attaches effortlessly to the Creeper Tool
I don't know your life, but I've found that most of my work doesn't happen in the full light of day. Even when I think I've got enough light when I start, it's always right when I'm in the think of things that I lose a pencil mark or washer and realize that I actually can't see half as well as I thought. If you've done just about any kind of DIY project then I know I don't need to sell you on how useful a good light can be to have around, especially under a car. The POD light boasts 300 lumens and a magnetic base. It's also omni directional, has different light output modes, and is small enough to fit in the palm of your hand. Honestly, until they come out with levitating lights that point where you tell them to, I'm not sure you're going to get better than this.
So, if you too are/are trying to be big into DIY, or you know someone who is, I would definitely recommend adding these to your collection. Personally, I feel like I waited too long, so do yourself (or someone else) a service and learn from my mistake.