Man Tripping
Sidekick Stool and Blade Light Make Great Gifts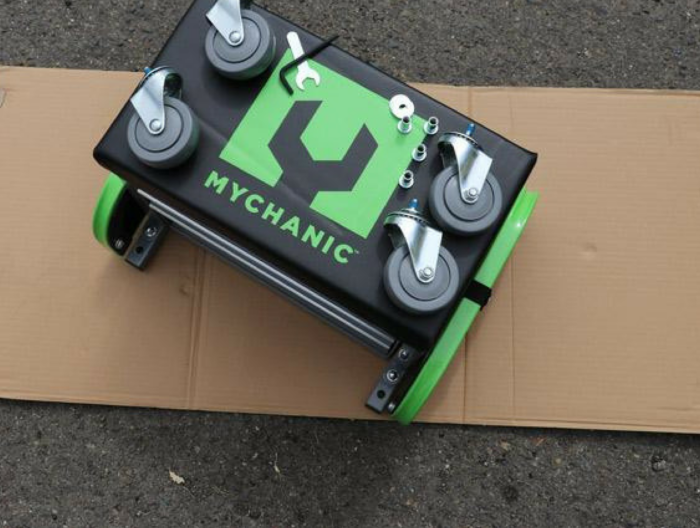 When it comes to products designed to help around the home, there are a lot of options out there that range from cool looking gadgets that don't really work to practical ones that are rather mundane. That's a challenge for anyone looking to buy something as a gift for those special men in their lives. On one hand, you can pick something that just looks cool - or you can get him something that he will actually be able to use and appreciate. Luckily, the Sidekick Stool and Blade Light that we received has the best of both categories.
MYCHANIC is a relatively new "Garage Essentials" brand that is is determined to make you be, "badass in the garage" - but still look good. Honestly, it's a welcome addition to the market and I think a lot of guys will not want to wait to get one of these for a gift and instead go out and buy it for themselves. Their product line includes a variety of products including the Sidekick Stool, utility lights such as the Blade Light, Smart Cables, a Floor Jack, and a Tool Creeper for use while working under your car.
All of those items feature a chic, modern look with black plastic, coated metal, and alien green accents that make it almost cool to use. As much as I love the classic "red" and "blue" look from other brands, at the end of the day those almost feel conservative and somewhat dated. Instead of being a chore, MYCHANIC products are designed for those who work in the garage for a hobby - but still demand that same quality as professionals.
In the case of the Sidekick Stool for instance, I was impressed that it has a nice thick seat cushion and can support up to 450 pounds with its 3" rubber swivel casters. Even little touches like the padded drawers made it clear that this was something special. Likewise, the Sidekick Stool also has two fold-down magnetic trays to keep loose bolts and other items from getting lost while working on a project. On the back is a tool rack that is easily removable should you prefer not to use for holding your tools but frankly, I love the brilliant green so I can't imagine not leaving it attached.
Assembly was extremely easy, it came in the box with four casters, bolts, and washers - as well as the tools needed to screw them in. This took just a matter of minutes and then it was ready to go.
Along side the Sidekick Stool, we also received the Blade Multi Light that gets its name because it looks like a giant straight razor that your barber uses during a shave. It features a 250 lumen output and has high, low, and red emergency flashing modes. It can fold like you see above as well as rotate almost all the way around so that you can angle it for virtually any job. The Blade Multi Light has a hook on the end to hang from the roof of your garage while working on a job, but it also has a magnetic base that can be used to attach it to the underside of your hood as well. Also, since it is so thin (5/8" on the lighted area), it can fit into tight spaces and provide superior illumination. Because of this flexibility, I can see it being useful to keep in the car as an emergency light as well and the Li-Ion rechargeable battery can be charged via a micro USB cable.