ClassicCars.com
This Floor Jack Works As Handsomely As It Looks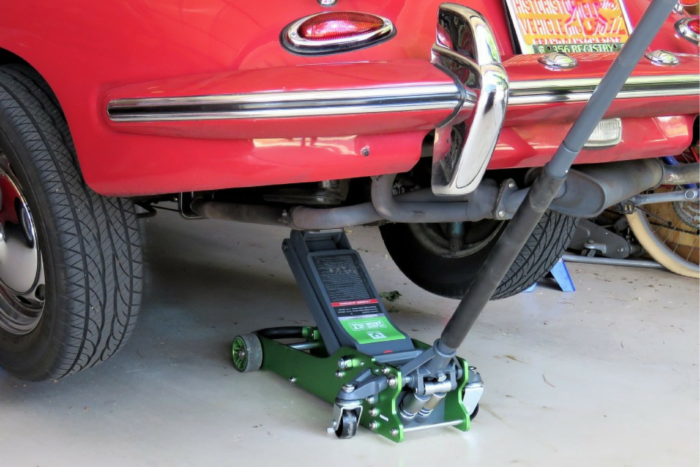 When I unpacked the MYCHANIC 2T Hybrid Floor Jack and stood back, my first thought was, "Now, that's a good-looking floor jack." I don't recall ever having that thought before.
Because really, a floor jack is usually just a piece of functionality. The MYCHANIC jack, however, is an uncommonly handsome piece. But does it work as well as it looks?
If you're going to work on your own vintage car, there are few things as indispensable as a good floor jack. Sure, wrenches and screwdrivers and such, but being able to lift your car easily and safely ranks right up there with being able to turn a bolt.
As a bona fide Porsche guy, I am well familiar with the jacking drill. With these cars, the heart of the engine is accessed from underneath, and you are required to jack it up and crawl under its backside. But any old car needs to be lifted sometimes, even if it's just to change a tire.
MYCHANIC is a tool company that specializes in making ingenious garage equipment for the handy car owner who fixes his or her own stuff. The company's slogan: "Turn Your Own Wrench." All of its industrial-strength items – drop lights, tool caddies, work stools, "smart" jumper cables – are created with an aesthetic eye as well as being sturdy and smartly designed.
The MYCHANIC floor jack, which was introduced in November, has a low profile with the saddle resting at just 3.5 inches for when you need to get under a low-hanging chassis. But it can lift as high as 18 inches, which is generally plenty.
The saddle has a thick rubber insert to minimize scratches and scuffs, and the lower part of the handle has a heavy rubber jacket for the same reason. There's a small tray for holding loose pieces of hardware.
The jack rolled easily across my garage floor on its large urethane wheels and castors, and even crossed my bumpy garage-door threshold without getting stuck in the concrete groove, as other jacks have.
There's a rubber-padded handle at the saddle end – which also serves as a padded bumper – so that you can pick it up and carry it, if needed. Kind of heavy at 59 pounds, but not bad considering its size and capability. Aluminum side plates, rendered in an attractive metallic green, help keep the weight down.
It all seems very well-constructed, with solid-looking hardware holding together what appears to be something that's built to last. The steel lift arm looks appropriately heavy duty.
Getting down to business, I decided this would be a perfect time to check under my Porsche 356 coupe for oil leaks, a recurring but intermittent problem. The MYCHANIC jack rolled easily under the car's low transmission "hoop," a solid framework under which I placed the padded saddle; I usually put a heavy piece of folded cloth on the steel-faced saddle of my old jack to avoid abrasions, so it was nice to not have to do that.
Something that annoyed me about the old jack was that it had to be pumped more than a dozen times to get the car up to a decent height. Mychanic says that it only takes five pumps to get it up to full height, and sure enough, that's all it took.
The jack has a hefty four-foot handle, so you have plenty of leverage for easy jacking. There's also the "dual parallel pump system," actually two separate pumps working in tandem, that also eases the strain.
Once in the air, the Porsche showed no signs of leakage, always a good thing.
The jack works smoothly, and it feels like a professional piece of equipment rather than a cheap compromise as you'd likely find in a home garage. The lifting power is a stout 4,400 pounds (two metric tons), more than twice the weight of my entire Porsche. So even if you're lifting the front of your Chevy Suburban, you should be OK. The jack has overload protection if you happened to exceed the weight limit, which serves to release the pressure and lower it down.
Of course, once the rear of my car was in the air, I added a pair of jack stands for safety – no matter how great the jack may be, never crawl under a vehicle without placing jack stands in strategic locations just in case of failure. I can think of few things as unpleasant as having a car fall on you.
One thing that never became clear to me was why MYCHANIC calls its floor jack a hybrid. It could have something to do with the dual pumps, but that's kind of a stretch. Otherwise, it seems like a pretty straightforward jack, a really nice jack, but straightforward nonetheless.
I was surprised, however, that the MYCHANIC jack is fairly inexpensive. It's pricing for a cut-rate jack, not for one as handsome and competent as the MYCHANIC jack.
Handsome and competent, what we'd all like to be. But as it turns out, the MYCHANIC 2T Hybrid Floor Jack works every bit as well as it looks. It should be a welcomed addition to any home mechanic's garage, no matter what kind of old-car project you're working on. Highly recommended.