You Must Be Trippin
Let There Be Light - Gifts for the Garage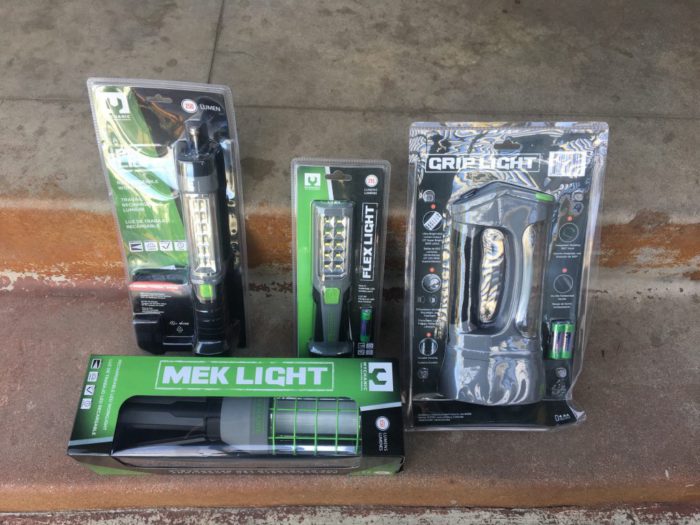 It's tough to buy a gift for a motorcyclist. They seem to already have everything, and if you don't know anything about tools, you can never be sure what will be useful. The greatest wrench or socket set might be completely wrong for a Harley-Davidson owner, or completely right for a Kawasaki guy.

One thing that all bikers need is good task lighting. When you're working in a garage in the winter, available light through the windows won't be enough, and overhead lighting doesn't help you see into the nooks and crannies. Durable, handheld battery powered LED lights are the answer, and you can never have too many when you're working on a motorcycle project. As such, they make great gifts.
A new tool manufacturer called "Mychanic" recently sent me an assortment of their work lights, which are designed in Nashville, Tennessee, and built in China. I'm very impressed with their functionality, ruggedness and styling.
The simplest unit is the Flex Light. This 215-lumen 11-LED light looks like a wand. It has a magnetic base, so you can safely attach it to your tank or fender and direct the light where you need it, or use the fold-out hook to hang the light off a bar. The Flex Light runs for six hours on three AA alkaline batteries (included), and you can use it at full power, low power or as a flashlight (with the single LED on top).
The Pik Light is a 250-lumen unit that is rechargeable, an includes a charger. The Pik light has 15 LEDs (an array of 12, plus a cluster of three on top for flashlight beam). A clever magnetic pickup tool pops out of the top, so you can light your way into a tight space to retrieve a dropped fastener or washer. Pik Light will run for five hours at low setting before requiring a charge.
Grip Light is a powerful 600-lumen light with 27 LEDs. It has a built-in soft grip handle and will work as a task light, flood light or flash light. Grip Light runs for four hours on four AA alkaline batteries and really puts out a lot of even, consistent light that is bright, yet not harsh on the eyes. It is lightweight for its size, and has a built-in hook for great placement flexibility.
Mek Light is the top of the line LED work light in the Mychanic lineup. It is rechargeable, and puts out 650 lumens for 3.5 hours on a single charge. Its base opens up to form a stable tripod, and the LED array lights in a 360-degree pattern, great for general illumination in a dim garage. Like the other Mychanic lights, it includes a built-in fold-out hook for hanging (also great for storage between uses).
I've been using the Mychanic lights in my garage for a while now, and I just can't say enough about how reliable and useful they are. I've retired my halogen and incandescent shop lights for now. If you've never worked with LED lights before, you're in for a treat. Say goodbye to burns and smoke from hot light housings – LEDs don't generate any perceivable heat, so you can get in closer and you don't have to worry about burning down your garage if they come in contact with an oily rag. The light itself is cooler in temperature – closer to pure white than the yellow of a halogen – so it's easier to read tools and socket sizes and shop manuals. Cord-free operation is also a big boon.
Any on the Mychanic lights would be a great gift for a motorcyclist this holiday season. Let the light shine!