Forbes
Sidekick Stool Featured in Forbes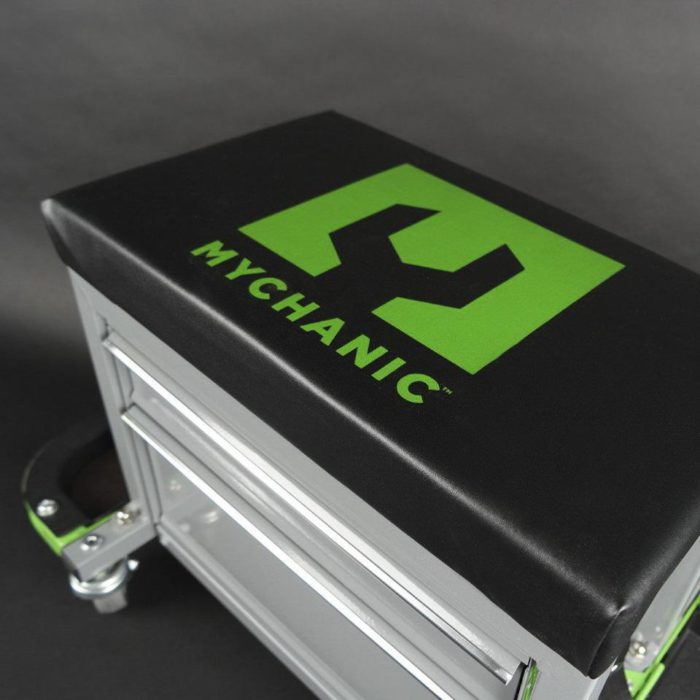 I love working in my garage, but I have to admit that I don't bend as easily as I used to. An hour of polishing my motorcycle can leave my back and knees sore for days, so I'm always on the lookout for a good alternative. I have a motorcycle lift, but it's not always convenient to strap my bike onto the lift to perform minor maintenance, so I use a mechanic's stool.

Mychanic, a small tool manufacturer, recently sent me an example of their Sidekick Stool ($99.99 direct), to test. The stool was designed in Nashville, Tennessee, and manufactured in China.
The 35-lb stool comes out of the box mostly assembled, requiring just an Allen wrench to attach the four heavy-duty 3-inch casters to be ready for use. The Sidekick is built of thick powdercoated steel, in gray and a luminescent green. The stool is 19.7 inches tall, 15.7 inches wide and 14.6 inches deep with a 1.5-inch flat pad on top. Two drawers, supported on ball-bearing slides, open on the front of the stool, and a removable tool tray mounts on the side. Mychanic claims that the heavy little seat can support up to 450 lbs, and it feels like it will.
The Sidekick has the look and feel of quality. It is a solidly built piece, worthy of a high-end garage alongside professional equipment. I have spent several afternoons using the Sidekick to work on my Sportster's wire wheels, which I have unfortunately neglected this riding season. Each spoke must be individually polished. It's meticulous work at an awkward level, and the Sidekick puts me in a very comfortable position to access the spokes from top to bottom. Before I begin work, I load up the drawers will all of the tools, polishes and rags that I'll need, which makes the job more efficient and neat from start to finish.
I have a lightweight fiberglass mechanic's stool that I've used for years, but this heavy-duty steel Sidekick has several advantages. The drawers and tool rack can be filled up without upsetting the balance of the stool, and the stool never feels tipsy or like it's going to slide out from under me when I lean toward the workpiece. Also, it is a really attractive, modern-looking unit that never fails to get attention when my buddies come over to help me out with something that I've broken or can't get working properly (I'm not a great mechanic, you see).
The Sidekick Stool promises to be a lifetime investment for your shop or a great gift for the home mechanic who has everything.