Guy and the Blog
Getting It Together in the Morning is Snow Problem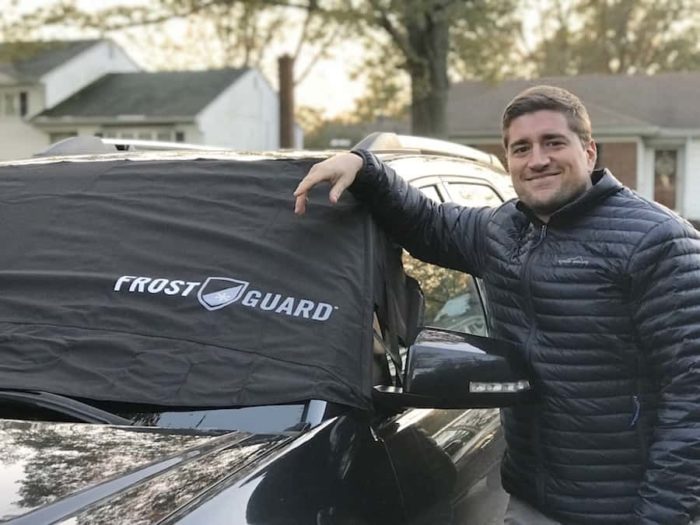 Fight the Frost
With FrostGuard, you've got a 20-second solution to a 20-minute problem. Plus, think of all that mental trauma you'd be avoiding. That's priceless. Skip the scraping with this unique winter windshield cover that prevents ice and snow from hindering your morning routine. Just put FrostGuard on your windshield at night and shake ice and snow off in the morning. It's so simple, it's gorgeous. Just like most fantastic inventions, the simplest solution to the most nagging problems are always the best. Frostguard® is durable, easy to use the cover for your windshield that will save you the time and hassle of scraping ice and snow off your car, truck or SUV. It's straight money, baby. A game changer for anyone that lives in a place that gets snow. It just might change you life.
It's Easy
This could not be any easier to use and the return on that little effort is massive. This is a home-run, baby. Just take a look at this video and see how simple it is to save yourself a lot of time and bother on those cold, snowy mornings. Just check out my video to see it live and in action!
Getting Gifty With It
If FrostGuard is not the perfect gift idea this holiday season, I just don't know who I am as a person anymore. It is the perfect gift. Spare your coworkers, friends, family, and mild acquaintances months of standing outside in frigid temperatures scraping ice, snow and frost off of their windshields every morning. They will love you forever.
Deal, Deals, Deals
I know you want to get many FrostGuards. It just makes too much sense. And why would you not want to be loved forever? Of course you do. That's why, this is a great time to buy! Get a fresh 20% off FrostGuard Signature Bundle with the code winter17 before December 31, 2017 (Some exclusions may apply). Just think about that, after you buy 5, you have saved enough to get yourself one that's essentially on the house. And you're welcome.
More Info
To find out more about FrostGuard, be sure to check out:
This is a sponsored post written by me on behalf of FrostGuard.