Blue i Style Blog
Be Prepared with a Winter Car Kit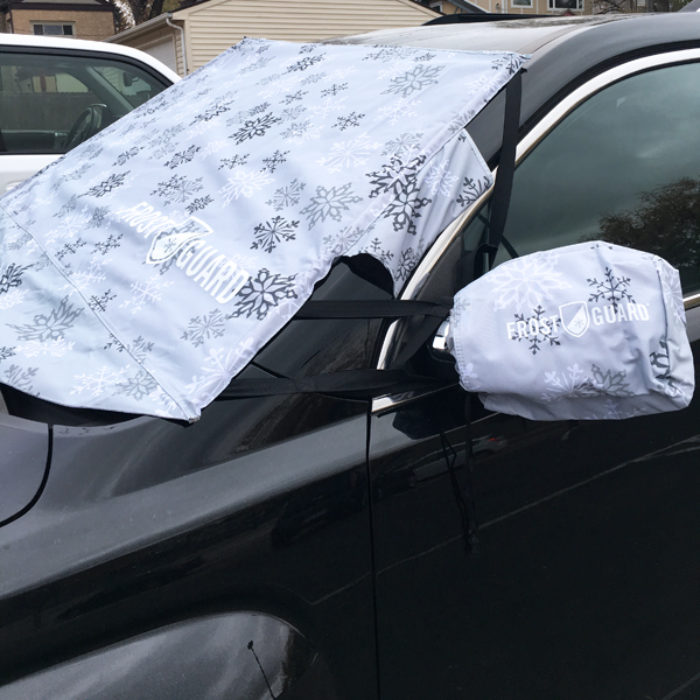 Be Prepared with a Winter Car Kit
I feel like the theme of this year has been finding simple solutions to problems we've been struggling with for far too long. You know - those solutions that make you say, if only I'd had this or done this years ago, I would have saved myself so much time or frustration. Today I'm talking about some of our former winter weather struggles, and how I've tackled them by creating an organized Winter Car Kit, complete with a major time-saver from sponsor FrostGuard®.


Last fall, we finally got our garage organized, making it possible to once again park both of our cars inside. But the reality is that our garage – despite looking big – is actually pretty hard to park two cars in because it's narrow and located off of an alley. Most of the time, we end up parking one car in the garage and the other on the street in front of the house for ease.
We are always watching the weather, and try to move the second car into the garage anytime the forecast predicts snow, but inevitably there are mornings when my husband gets ready to leave, only to discover that his windshield is covered in a layer of ice!


There's nothing worse than walking out the door heading to a meeting, or to take the kids to school, only to find that your windshield is totally iced over and you're going to have to spend the next 10 minutes chipping away at it before you can drive away. Cold, wet and late is really not the best way to start the day!


My husband doesn't have covered parking at work either, so he often ends up having to scrape snow and ice each time he leaves the office for a meeting, which is not really ideal in dress clothes and when you want to show up looking professional, rather than soggy and wet.
Of course, dealing with an icy or snowy windshield is just one of the many winter driving challenges living in a cold climate, so this year we decided we should be a bit better prepared. We already have a box of supplies that we keep in the car year-round, which is focused on first aid, snacks and supplies for the kids, and other general necessities (read more about our year-round Car Kit here), but this year we've also added a "Winter Car Kit" full of additional supplies specific to the cold-weather months.


I'll show you everything we keep in our new Winter Car Kit in just a minute, but first I have to show you my very favorite addition – the one that's going to save us from all those windshield-clearing, ice scraping, late to school and work, arriving cold and wet situations!

This is seriously one of those, "where the heck have you been all my life?" solutions! Our new FrostGuardwindshield cover takes just seconds to put on thanks to the elastic that easily secures over your side mirrors (called the Fit-Fast® attachment system), and it covers not only our windshield, but also our wipers, preventing snow and ice build-up!

You just cover the windshield with the FrostGuard when you get out of the car, closing the security panel in the driver-side door so that it's there when you need it. The FrostGuard is made of a heavy-weight polyester with a weather-resistant PVC lining, so when you return to you car, you simply roll it up to uncover your clear windshield – no scraping or clearing required!
We got the bundle that also includes matching mirror covers, which is such a great bonus because there's nothing more tedious and awkward than trying to scrape ice of those side-view mirrors!


You can easily shake and snow of the FrostGuard before rolling it up, and placing it inside the quick-dry storage pouch means no soggy backseat.
I love the gray-blue snowflake pattern, but I think Scott might prefer something a bit more understated and masculine. Fortunately, the FrostGuard comes in multiple colors, prints and patterns to fit your taste, so I think I might steal this one for my car and get him a plain and simple black version to match his car.



The FrostGuard has already prevented Scott from scraping ice a few mornings this winter, but since we've had a warmer than normal November, we haven't yet had a big snow this season. The next time it snows, though, I'm going to take a quick video to show you how it works.
UPDATE: Right on cue with the first day of winter, we finally got snow. Watch the FrostGuard in action!
Skip the Snow Clearing & Ice ScrapingPlay Video

FrostGuard would make an awesome gift this holiday season! Get 20% off the FrostGuardSignature Bundle with the code winter17 before December 31, 2017 (some exclusions may apply).
Ok, now let's talk about what else we've put in our Winter Car Kit to keep us warm and safe on the roads this season:

Warm Blanket
FrostGuard windshield and side mirror covers
Ice-scraper and snow brush (for the other windows on the car)
Winter-formula windshield wiper fluid
Flashlight with extra batteries (I chose a flashlight that includes a red emergency flashing option, as well a built-in multi-tool)
Jumper cables
Gloves (water proof)
Warm Hat
These items are in addition to what we keep in the car all the time, like our first-aid kit, bottles of water, non-perishable snacks, and a back-up cell phone battery charger. If we decide to head out on a longer road trip, or up to the mountains, we may also add a few other precautionary items, but these basics should keep us covered for our day-to-day needs around town.