Kelly's Thoughts On Things
Don't Freeze While Cleaning Your Windshield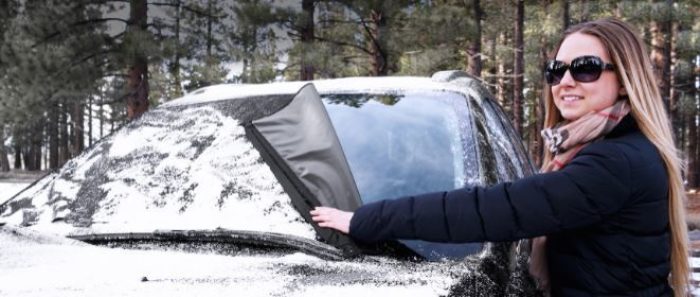 Winter is coming! No, no, I don't mean the White Walkers. (Sorry, I'm a huge Game of Thrones fan, so I had to throw that in there!) Quite literally, winter will be here before we know it, and for many of us, that means ice and snow. Both of which make cleaning off our windshields a really crappy job. Don't freeze, make it a breeze!
DON'T FREEZE WHILE CLEANING THE ICE OR SNOW OFF YOUR WINDSHIELD
We live in Northeastern Pennsylvania. Our winters are usually very cold, and very long. I hate it. However, until we can move south, we're stuck here. The worst part is when we have to go somewhere and our windshield is covered in snow, or even worse, a thick layer of ice.
My husband is disabled, and has a back, neck and shoulder dull of titanium. Therefore, cold weather and my husband don't mix. So as a wife, I clean off the car in the winter. That job stinks. And who wants to be outside, freezing, and scraping ice off a windshield first thing in the morning? NOT ME!
FROSTGUARD WILL SAVE YOU TIME AND HASSLE
That's where FrostGuard comes in. Their FrostGuard Signature goes on your windshield in one easy step. That way, you don't have to clean snow, or scrape ice, in order to leave for work or anywhere else. When you see snow in the forecast, or that the temps will drop below freezing, just head outside and put your FrostGuard Signature on your vehicle's windshield. It even has a flap to cover your wiper blades too.
ANTI THEFT
Wondering what keeps people from stealing your FrostGuard? It's simple really. They have a Driver's Side Security Panel. When you put it on your windshield, you just slip the security panel in your door, shut it, and lock it. Voila. Now strangers can't swipe your cover.
DURABLE AND STRONG
FrostGuard Signature is made of durable polyester with weather-resistant PVC lining. It also comes with a quick dry storage pouch so you won't be getting your back seats or trunk all wet. They come in two sizes, standard or XL. That makes them universal for cars, trucks, and SUV's.
CHRISTMAS IS COMING AND FROSTGUARD SIGNATURE MAKES THE PERFECT GIFT. (THEY ALSO HAVE MIRROR COVERS ALSO!) TO SEE ALL OF THE COLOR OPTIONS AND TO ORDER YOURS, CLICK HERE. FOLLOW VIA FACEBOOK, TWITTER, AND INSTAGRAM.