Mark Houlahan of Mustang Monthly
Detailing Rig Makes Car Care Easier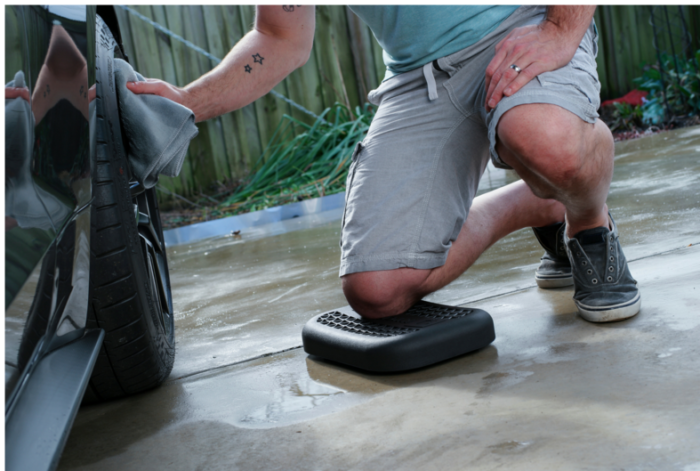 Keeping our Mustangs spotless and ready for the weekend is a love/hate for many of us. We love the final results of a clean ride, but hate having to lug bottles and rags all over the car and when it comes to the lower half of the car, such as cleaning the pinch weld, detailing those trick wheels, and more, well, our backs aren't getting any younger. By the time we're done cleaning our Mustang sometimes we just want to forego the show or cruise and go take a nap!
MYCHANIC has been working to make us DIY enthusiast's lives easier with its line of helpful products like LED lighting and other tools. It's most recent product release is certainly going to be of interest to us Mustang people—the Detailing Rig. The new MYCHANIC Detailing Rig is just the sort of product that will make the job of getting your Mustang clean that much easier and it is so easy and comfortable to use you might just even see the wife wanting to clean her own car! A stretch we know, but it's that nice to use!
The included wash bucket with grit guard sits on the Detailing Rig base and is easily removed for filling with your favorite car wash soap and water or for rinsing/cleaning once you're done. The seat pad doubles as a knee pad for getting down low while cleaning.
No longer do you have to sit on a mechanic's creeper seat that's not designed for car care, or a turned over five-gallon bucket (or worse, bending over for lengths of time that make your lower back scream Uncle). The MYCHANIC Detailing Rig features a durable powder coated steel frame with five easy rolling urethane casters to support up to 350 lbs. The removable wash bucket is generously sized for your favorite car wash suds and features a grit trap in the bottom to keep all the dirt you've removed from your Mustang's paint surface in the bucket and not put it back on the car. The wash bucket also comes with a bottle rack on each side to hang your favorite spray bottles of detailer, tire dressing, etc. The soft EVA foam cushion seat is removable to use a kneeling pad when you really need to get low. Under the seat you'll find a nice metal storage tray to fit small tools, detailing brushes, a stack of micro-fiber towels, etc. Finally, the included cup holder mounts to the side of the Detailing Rig and holds your favorite beverage can or bottle to keep thirst at bay while you get your Mustang ready for that big show!
The MYCHANIC Detailing Rig ships ready to assemble, and the assembly is nothing more than bolting the unit together, adding the casters, and screwing the cup holder into place. A 17mm wrench/socket set and a Phillips head screwdriver is all you'll need and in less than ten minutes you'll be ready to roll (literally!) in your driveway and the envy of all your neighbors. You'll have to order your own at www.mychanic.com because we're not lending ours out! Get comfortable and save your back during those detailing sessions for just $89.99.