Larry Edsall of ClassicCars.com
A Versatile Partner, In The Garage Or Elsewhere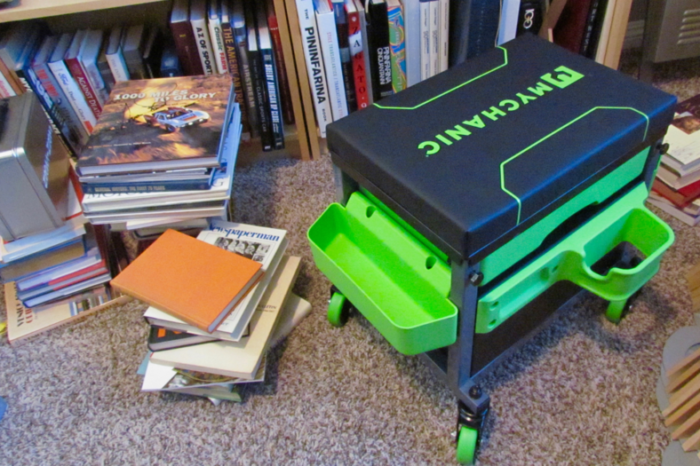 MYCHANIC's Sidekick Stool - SK2 works well in or out of the workshop.
We've praised the products of Mychanic a couple of times in the past, and we're about to do it again, though I doubt that even the creative folks responsible for the Sidekick Stool - SK2 realized one of its most practical uses.
"Full of function and thought, our new garage stool brings modified to a new level," the company notes on its website. "From the adjustable height seat, power tool holster, hardware bins and deep padded drawer, this shop stool is the opposite of stock."
Its makers also note that the Sidekick Stool - SK2 comes with a bonus: A tool caddy with a 2-in-1 handle and a mobile device stand so you can watch a how-to video on your iPad as you work on your own vehicle.
They tout how the padded seat adjusts from 17.4 inches to 20.5 inches in height to better fit a variety of users, how the steel frame is powder coated and supports someone weighing more than 300 pounds, how the 3-inch casters make for easy gliding, how the power tool holster and assorted bins are ready for your tools and bits and containers of cleaning products, and how the padded drawer rides on ball bearings for easy access, and from either side of the unit.
And all of that is true, and I'll be using a Sidekick Stool in the garage for its intended purpose… just as soon as I finish using it for its unintended purpose.
I've just moved into a new home and am in the process of turning what's supposed to be the guest bedroom into a library, which means putting books onto book shelves, and then moving them as I change my mind about what goes where.
Guess what! The Sidekick Stool provides a nifty and easy-moving seat when putting books into the lower shelves, and it also serves as a rolling platform for moving a stack of books from one side of the room to another.